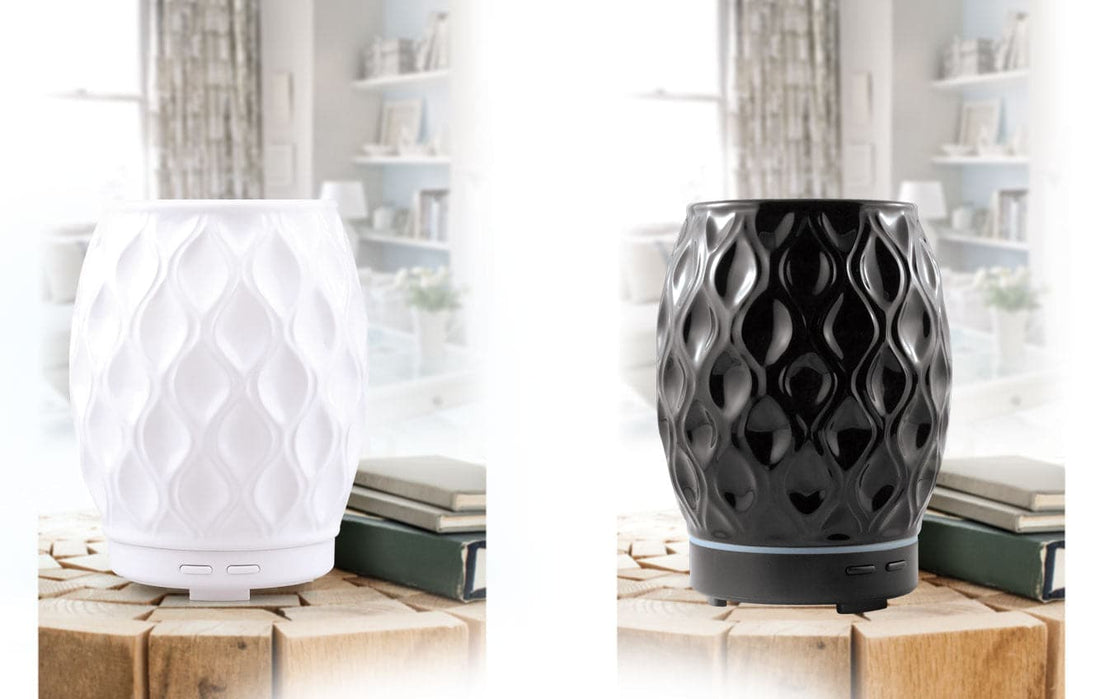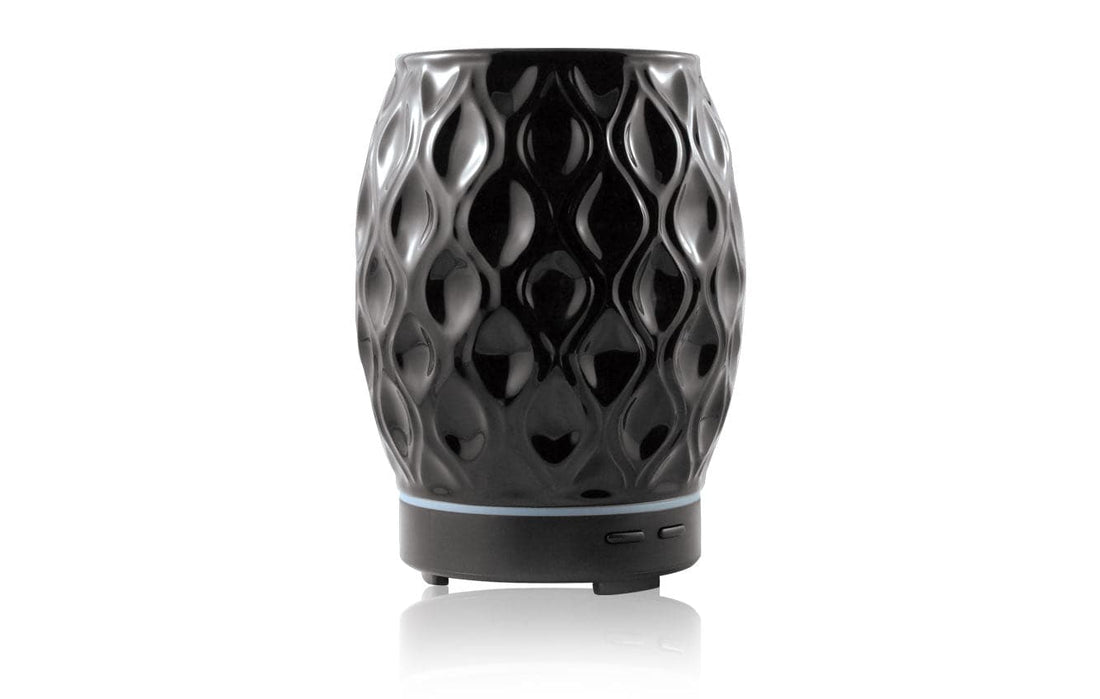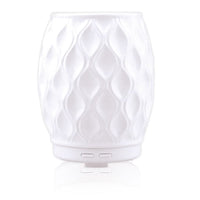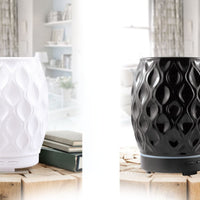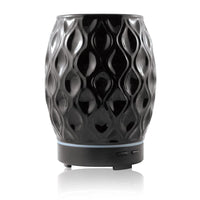 AromaVase Escents Ultrasonic Aromatherapy Diffuser
The most efficient form of diffusion. Oils are not heated at all. Unlike conventional essential oil burners and heaters, this diffuser uses ultrasonic technology which converts the oil and water under high frequency vibration into a fine cold mist. This mist is then diffused throughout the entire room creating a natural spaEscentslike atmosphere.
No heat, chemicals, or pump needed. Safer, silent, effective and economical!
Easy to use and care.
Safe and silent
Up to 3Escents1/2 hours (or more) operation.
Digitally programmed to stop automatically
OPERATING INSTRUCTIONS

1. Remove the upper cover.
2. Connect power supply to base of unit via cable guide.
3. Use the measuring cup (included) to add 100ml of water
to the tank. The unit will not work without water.
Do not exceed the maximum fill level.
4. Add 3 to 5 drops of your favorite essential oil to the water,
replace cover (cover must be in place before turning the unit on).
5. With dry hands, plug the adaptor into a standard household outlet.
Unit will "Beep" twice and remain in standby mode.
6. Press the mist (right) button once
for continuous mist pattern.
Press twice for intermittent mist pattern (30s ON / 30s OFF).
Press a third time (or press and hold at any time)
to turn misting off.
7. Press the light (left) button to turn LED lights ON.
Lights turn on in multiEscentscolor mode.
For fixed color light mode,
press button when desired color appears.
Press again to return to multiEscentscolor mode.
Press and hold at any time to turn lights off.
TROUBLESHOOTING
Unit turned ON, but turns OFF within 1 second:
• Make sure there is enough water in the tank to run the unit.
• Check that the unit is properly connected to the power supply.
NO MIST OR ABNORMAL MIST:
• Make sure there is enough water in the tank to run the unit,
but water does not exceed max water level.
• Check that the ultrasonic plate is clean, if not, clean it.
• Check that the bottom of the unit is free of debris, if not, clean it.
UNIT IS LEAKING:
• Make sure the cover is in place.
• Make sure there is no condensation on the outside of the unit
caused by low temperature or high humidity.
ACCIDENTAL LEAKAGE
If the unit is knocked over during use:
1. Unplug the unit and remove the cover.
2. Pour any remaining water out of the tank.
3. Gently shake the unit to drain any water from inside
the mechanism.
4. Allow the unit to air dry for at least 24 hours
MAINTENANCE
After using the unit 5 to 6 times or for 3Escents5 days,
clean the unit as follows:
1. Unplug the unit and remove the cover.
2. Pour any remaining water out from the DRAIN SIDE
of the water tank.
3. Put 1 tablespoon of lemon or lime juice into the tank,
add 100ml of warm water, let sit, drain and wipe with clean cloth.
4. If there is any dirt in the air outlet remove the container cover
and clean it.
5. Never use other acids, enzymes or detergents,
as they may cause the unit to malfunction.
All orders are shipped from our warehouse in Vancouver, BC, Canada through Canada Post. Please note that shipping times are estimated from the date that the order leaves our warehouse, not from the date the order is placed. You can upgrade to Express shipping for faster delivery.
Orders are considered delivered when the shipping carrier provides confirmation that the package was successfully delivered to the address provided in the order.
If Canada Post is unable to deliver the package after numerous failed delivery attempts, the cost of reshipping will be at the expense of the customer.
Escents Body Products Inc. is not responsible for nonreceipt of orders due to improperly submitted, inaccurate and/or incomplete shipping addresses.
International guests (including those in the United States) are responsible for all import duties levied by customs. Orders may be held at the border, which can increase estimated delivery times.
We want you to love your new product as much as we do, that's why Escents offers returns for exchange at our retail stores within 30 days, with a valid receipt and unopened and unused merchandise.
Escents Body Products Inc. reserves the right to inspect all returns/refunds before issuing an exchange. Online purchases require a Return Authorization # from Head Office. Please email customer@escents.ca to obtain your RA#.
Escents Body Products Inc. will not refund original shipping and handling fees on returns except in the case of manufacturer's defect. If your order arrives damaged from transit, or if you are missing an item that was on your invoice, please contact Customer Service..